페이지 정보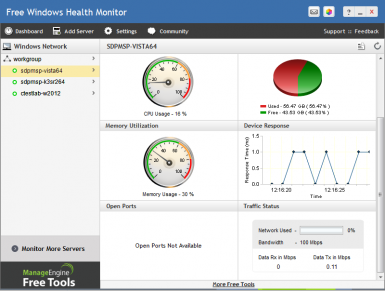 Windows Health Monitor
본문
System Monitoring
Monitor system CPU, memory, disk space, number of ports open, response time and network bandwidth utilization. Also view each system's CPU usage in a server by selecting it.
Response Time
Track the response time of the servers/systems in an intuitive graph and ensure that the user doesn't have to wait long to use an application.
Dashboard View
View top 3 systems memory, CPU, disk utilization along with their name and IP address details. Watch for color-coded alerts showing the systems with high resource utilization.
Threshold Settings
Set warning and critical threshold values for CPU, disk and memory usage.
TCP Port Scanning
View open ports in the selected server with its description.